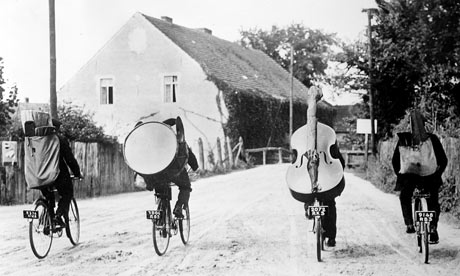 The 7 Rules About Finding The Right Musicians For Your Band
by Tom Hess
---
Virtually all bands (including some of your favorite bands) struggle to find the right people for their band. Very few know how to deal with it and how to overcome this common problem. Here are the 7 rules you and your band definitely need to know:
Rule #1: When you are surrounded with the right musicians in your band, there is almost nothing you cannot achieve together.
Rule #2: When you have the wrong people in your band, your failure is almost guaranteed.
Rule #3: Most musicians are not actually serious and committed to a successful career in music. Everybody talks about becoming successful and 'making it', but most of them are merely talkers and won't do the hard work required to become successful beyond playing their instruments. These people will fail and you do not want them in your band.
Rule #4: To make your band successful requires a very large amount of work and sustained effort, even after you have 'made it'. Bands that have only 1-2 band members continuously doing most of the work almost always fail. If your band members are not pulling MORE than their own weight, give them one (and only one) chance to change this – if you do not see a permanent total transformation in their work ethic, effort and attitude, fire them immediately.
Pat O'Bryan once stated:
"You'd be amazed at how many artists and musicians are just sitting around waiting to be discovered while they continue to do the same thing all the other musicians and artists are doing.
"Losers, losing by following losers. Not much of a plan, but it's pretty popular."
Rule #5: Wasting your time, energy and career on musicians who may be talented, but are not the right people to help you pursue your band's music career will drag you down, drain your ambition and kill your dream. If you want to make it in this business, you absolutely can NOT afford to settle for the wrong people no matter how talented they are musically – even if they are your personal friends.
Rule #6: Most of the 'right people/musicians' are just like you, just as frustrated as you are when trying to find the right people, and they are desperately looking for YOU, just as much as you are looking for them.
Rule #7: Many musicians already in successful bands are frustrated with some of their bandmates. Don't think that just because they are already in a band, they aren't open to either leaving that band or replacing an existing band member with you.
Imagine what you will achieve when you finally have the right people in your band. When you have people who don't merely talk, but instead take consistent focused action every single day, your path forward will immediately become so much easier. You'll begin to transform your dream into a reality
جمع آوری شده توسط آقای مهیار امیر تیموری